Es Tiempo Lehigh Valley de PBS39 fue un programa de televisión semanal que enalteció la diversidad y la esencia cultural de la comunidad latina en el Lehigh Valley. Entre los invitados se incluyieron activistas de la comunidad latina, propietarios de negocios, educadores, pintores, músicos, y líderes de todo el Lehigh Valley.
Este fue el primer programa en la historia de PBS39 que se realizó completamente en español y fue el primer programa de idioma español presentado por PBS39 en más de veinte años.

PBS39's Es Tiempo Lehigh Valley was a weekly talk show that highlighted the diversity and cultural essence of the Latino community in the Greater Lehigh Valley. Guests included Latino community activists, business owners, educators, entertainers, leaders and law enforcement officers from across the Greater Lehigh Valley. This was the first show in PBS39's history to be done entirely in Spanish & the first Spanish language program presented by PBS39 in more than twenty years.

¡Conócenos!
Meet Your Hosts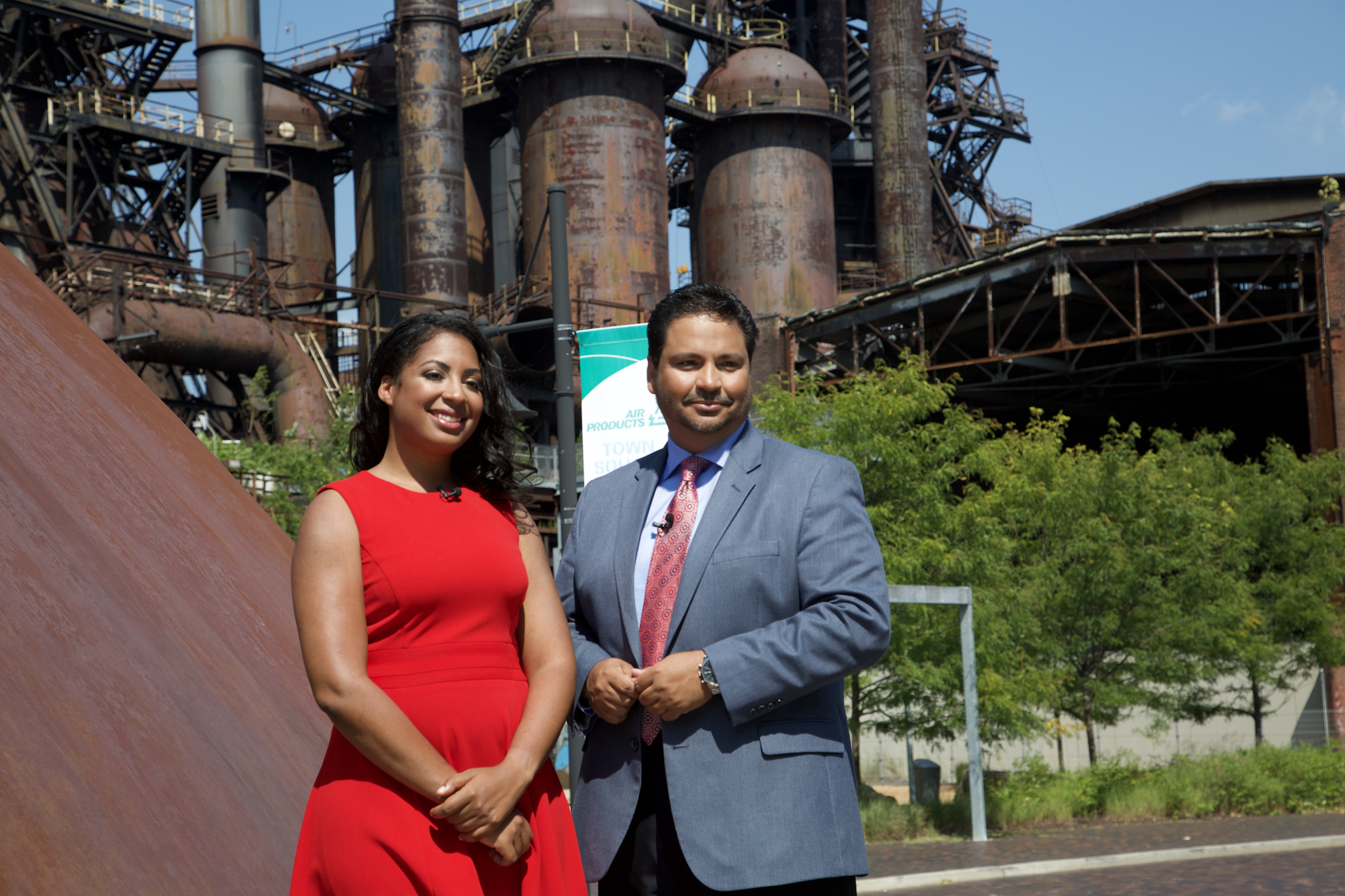 Genesis Ortega
Genesis Ortega es la Embajadora de Membresía y Comunidad de PBS39. Ella estudió en la Allentown Central Catholic High School y se graduó en el 2013 con un bachillerato de Moravian College en Negocios Internacionales y Francés. Genesis habla español y francés con fluidez y tuvo la oportunidad de estudiar en España y también en Francia. Ella comenzó su carrera trabajando para United Healthcare como Gerente de Cuenta de servicio bilingüe. Ella desarrolló habilidades y conocimientos útiles para su próximo rol en la oficina del congresista estadounidense Charlie Dent. Durante su tiempo trabajando para la Cámara de Representantes, interactuó con los líderes de la comunidad del
15º Distrito del Congreso, que incluía los condados de Lehigh, Northampton, Berks, Lebanon y Dauphin. Genesis se unió a la familia de PBS39 en mayo de 2018, poco después de que el Congresista Dent anunciara su retiro. Genesis está entusiasmada de seguir persiguiendo su pasión por el alcance comunitario, especialmente con la comunidad hispana.

Genesis Ortega serves as Membership and Community Engagement Ambassador for PBS39. She attended Allentown Central Catholic High School and studied International Management and French at Moravian College, graduating in 2013. Ortega speaks fluent Spanish and French and had the opportunity to study abroad in both Spain and France. She began her career working for United Healthcare's Medicare and Retirement division as a bilingual Service Account Manager. She developed skills and knowledge helpful to her next role in U.S. Congressman Charlie Dent's office. During her time working for the House of Representatives, she interacted with constituents and community leaders from across the 15th Congressional District, which included Lehigh, Northampton, Berks, Lebanon, and Dauphin counties. Ortega joined the PBS39 family in May 2018, shortly after Congressman Dent announced his retirement. Ortega is excited to continue pursuing her passion for community outreach, especially as it pertains to the Hispanic community.
Victor Martinez
Víctor Martínez (VJ MAR) comenzó su carrera radial en la radio local española en Orlando, Florida, a la edad de 13 años. A la edad de 19 años, Martínez se convirtió en uno de los directores de programa más jóvenes de los Estados Unidos y fue reconocido por la revista R & R por su talento prometedor. Mientras estaba en la radio, amplió su carrera en la radiodifusión convirtiéndose en reportero / presentador de WFMZ en Allentown. Él también trabajó para NY1 News en la ciudad de Nueva York, donde cubrió las noticias sobre las Naciones Unidas, los ataques del 11 de septiembre y la Serie Mundial de 2003. Después de tres años, se apartó para convertirse en el Director de programación de Clear Channel Radio, y lanzó con éxito VIVA 105.7FM, Mega 101 y Rumba 100.3. Después de unos años, Víctor regresó como reportero de Fox 5 / Georgia TV, donde se convirtió en un periodista galardonado con el premio Emmy. En 2007, regresó a Florida como Editor Gerente y Anchor de News 13 En Español, donde ganó dos Premios Paoli y el Premio Coqui de Oro. Luego regresó a la radio como Director del Programa en Caliente 105.3FM y luego Director de Programa en El Zol 107.9 donde fue nominado para el Premio "Medalla Cortez" al Director del Programa del año y fue honrado como Persona del Año después de recaudar más de $ 300,000 para Children's Miracle Network.

Victor Martinez (VJ MAR) began his broadcast career in local Spanish radio in Orlando, Florida at the age of 13. At the age of 19, Martinez became one of the youngest program directors in the U.S. and was later recognized by R&R magazine for his promising talent. While in radio, he expanded his broadcast career by becoming a reporter/anchor for WFMZ in Allentown. Later he worked for NY1 News in New York City where he covered the United Nations, the September 11 attacks and the 2003 World Series. After three years, he stepped away to become the Programming Director for Clear Channel Radio, successfully launching VIVA 105.7FM, Mega 101 and Rumba 100.3. After a few years, Victor returned as a reporter for Fox 5/Georgia TV where he became an Emmy award-winning journalist. In 2007, he returned to Florida as the Managing Editor and Anchor of News 13 En Español, where he won two Paoli Awards & the Coqui de Oro Award. He then returned to radio as the Program Director at Caliente 105.3FM and then Program Director at El Zol 107.9 where he was nominated for the "Medalla Cortez" Award for Program Director of the year & was honored as the Person of the Year after raising more than $300K for the Children's Miracle Network.