We live in a time known as the 'Digital' or 'Information Age.'
With new technologies emerging constantly, how do we navigate the digital frontier?
That's where PBS39's Tech Takeover comes in. PBS39's digital literacy series educates and empowers viewers about how to better use and understand current and emerging digital platforms.

Digital literacy is the ability to evaluate and use information from the internet, smartphones, video games and other non-traditional sources. Whether you're watching a video on YouTube or reading an article on Facebook, children and adults alike need to know how to critically examine the quality and credibility of that media. They also need to know how to keep their personal information safe online.

PBS39 Tech Takeover Mission Statement:
(1) We Create Strong Digital Citizens
This series focuses on educating viewers to become strong 'Digital Citizens' for the long-term. We not only help them navigate the Digital World, we also encourage them to practice digital ethics when they share and use content online.
(2) We Read The Fine Print
We read user agreements and break them down for our viewers. When they join groups like Facebook, YouTube and Venmo, we tell them what rights they do - and don't have - by signing up.
(3) We Offer Solutions To Digital Problems
We explain to viewers how to keep their personal information safe, private and secure. We also provide reviews for websites, test smartphone apps and check out the latest tech to keep viewers informed.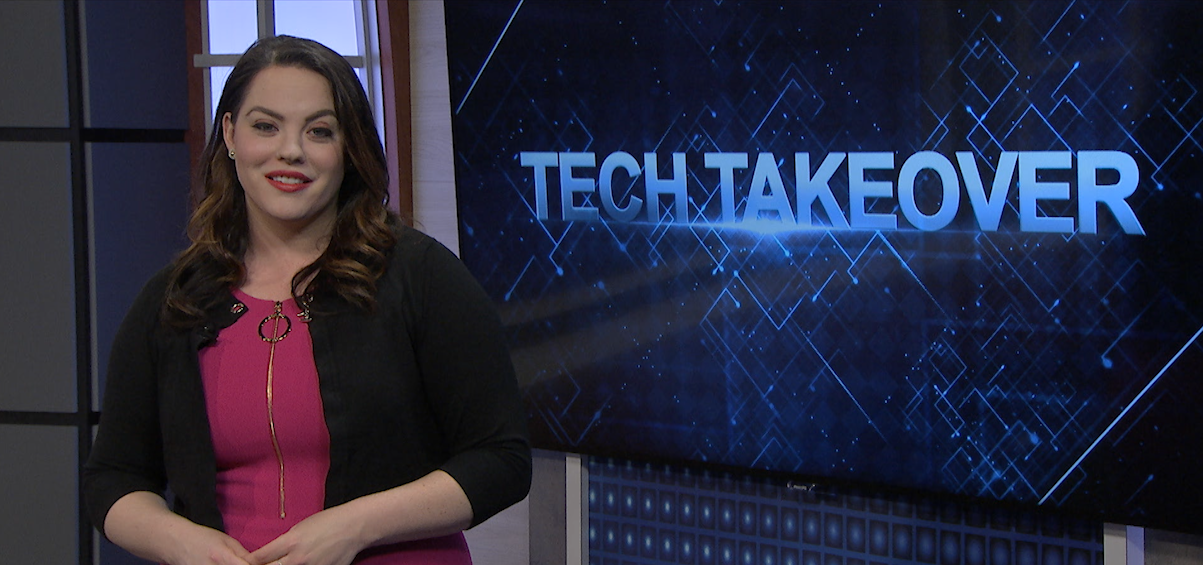 About Megan Frank
Megan Frank grew up in Philadelphia and graduated from Temple University. She is the 2010 recipient of The Legacy Award for excellence in reporting on diverse communities, given by Temple's Klein College of Media and Communication. She comes to PBS39 from Harrisburg, where she reported for stations serving the Pennsylvania State Capitol region. Prior to her work in television, she was a public radio reporter at WHYY in Philadelphia, reporting for the station's flagship radio program NewsWorks Tonight and acted as an investigative research aide for NPR's Marcellus Shale reporting project StateImpact Pennsylvania. Her print work has been featured by Philly.com's My Community Trend and Temple University's Fox Focus magazine.
TECH TAKEOVER | False claims about voting in Pa.
Pennsylvanians are being warned about robocalls spreading incorrect information about voting.
TECH TAKEOVER | Free tech workshops and networking
A look at two regional tech and innovation festivals.
TECH TAKEOVER | Contact tracing app
The COVID Alert PA app will notify users when they've been in contact with COVID-19.
TECH TAKEOVER | Esports Continues to Grow
There's at least one sport that's not taking a hit from COVID-19, but the growth didn't happen overnight.
TECH TAKEOVER | TikTok Restrictions
What's the future of TikTok in the United States?
TECH TAKEOVER | Digital dating during the pandemic
How do you keep the connection going during this time of distance?
TECH TAKEOVER | Examining performative activism
A deeper look at "clicktivism" and the "challenge accepted" Instagram movement.
TECH TAKEOVER | Are you 'doomscrolling' again?
A closer look at the term that refers to searching for bad news.
TECH TAKEOVER | TikTok ban?
Popular social media apps based in China face an uncertain future in the U.S.
TECH TAKEOVER | Virtual engineering STEM session
PBS39 takes you to a virtual workshop where kids are learning to code and 3D print mini-rockets!
TECH TAKEOVER | A closer look at cyber racism
Should social media sites be held accountable for what users post?
TECH TAKEOVER | Thermal scanners and thermometers
A look at how the tech has been utilized during the coronavirus pandemic.
TECH TAKEOVER | Zoom engagement proposal
A Montgomery County man used technology to pop the question.
TECH TAKEOVER | Face Masks and Hearing Loss
For people who have hearing loss or wear hearing aides, interactions with people wearing face masks can make communication tougher, but technology can help.
TECH TAKEOVER | Teaching Telehealth
Arcadia University and Salus University have teamed up to offer a seminar about telehealth.
TECH TAKEOVER | Zoom Marriage
Not your traditional wedding. Meet a couple who tied the knot, virtually.
TECH TAKEOVER | Protecting Virtual Communication
Before your video chat is crashed, check out our tips to protect your video calls.
TECH TAKEOVER | Virtual Climb
Walking, running and climbing events have been canceled, but you can still show virtual support for the causes you care about.
TECH TAKEOVER | Making Masks
A Lehigh County-based 3D printing company called Filament Innovations quickly mobilized and offered to 3D print N95 masks for St. Luke's staff.
TECH TAKEOVER | Dirty devices
How do we keep our digital devices clean during the coronavirus pandemic?
TECH TAKEOVER | Terms of service
A closer look at those terms of service agreements on social media.
TECH TAKEOVER | Retail apocalypse
Is your online order to blame for retail store closings? A closer look at consumer trends in the Digital Age.
TECH TAKEOVER | Health apps
As you track your steps, advertisers may be tracking your every move. Tech Takeover has tips to protect your privacy.
TECH TAKEOVER | Dating safety apps
Tips to keep you safe while dating in the digital age.
TECH TAKEOVER | Tips for dealing with 'Tech Neck'
How to avoid "tech neck" and go on a "tech diet."
TECH TAKEOVER | Big Game in the Digital Age
Explore how watching the Super Bowl has changed.
TECH TAKEOVER | Martin Guitar
Highlighting some of the high-tech electronic features of Martin guitars.
TECH TAKEOVER | Do you bank online?
Do you bank online? Consumer advocates provide tips on keeping your digital finances safe
TECH TAKEOVER | Drexel University
Learn how fabric engineers manufacture textile technology.
TECH TAKEOVER | Winter Lights Spectacular
Take a look at the tech behind one of the region's largest holiday lights displays.
TECH TAKEOVER | PPL is using drones
PPL is using drones to inspect distribution power lines.
TECH TAKEOVER | Social Media and Data Privacy
Q&A with educator and social media expert Tim Guella.
TECH TAKEOVER | 3-D Prosthetics
A Lehigh County entrepreneur whose company makes 3-D prosthetics.
TECH TAKEOVER | Nintendo
Demo of Nintendo's new interactive video game.
TECH TAKEOVER | Laser Printing
Visit a laser company in Lehigh County.
Tech Takeover | Facebook Messenger Scams
Scams are targeting victims through Facebook's messaging service.
Tech Takeover | Girls of Steel
We visit a group of young women who are building their own robots.
Tech Takeover | Cybersecurity
Learn about Cybersecurity and what you can do to make your devices safer.
Tech Takeover | Drone School
We stop by one of the first drone training schools in the nation.
Tech Takeover | Bitcoin
Learn about the cryptocurrency.
Tech Takeover | Robot Restaurant
Check out this "robot restaurant" in Delaware.
Tech Takeover | Deepfakes
Learn about Deepfakes: a technique for human image synthesis based on artificial intelligence.
Tech Takeover | FaceApp
What did users give up once they hit ''Agree'' to an app like FaceApp's terms of service?
Tech Takeover | Musikfest
A look at the tech involved in putting on Musikfest.
Tech Takeover | CHOICES Camp
A look at Lehigh University's CHOICES summer camp for teen girls.
Tech Takeover | Is My Smart Phone Listening to Me?
How to guard your digital privacy.
Tech Takeover | eSports
A look at eSports and an Allentown man who plays for the Sacramento Kings' eSports team.
Tech Takeover | Digital Afterlife
Tips for resting in cyber peace and how to set up a "digital will."
Tech Takeover | Smart Home
We visit a smart home in Upper Saucon Township to see how technology affects our daily lives.
Tech Takeover | Marty the Robot
Meet Marty-- Giant Food Store's newest associate.
Tech Takeover | All About Robocalls
How can you stop getting those annoying robocalls and scams?