Tattoo Removal Revenue About to Hit Record
by
Published on
• Last modified on
• Comments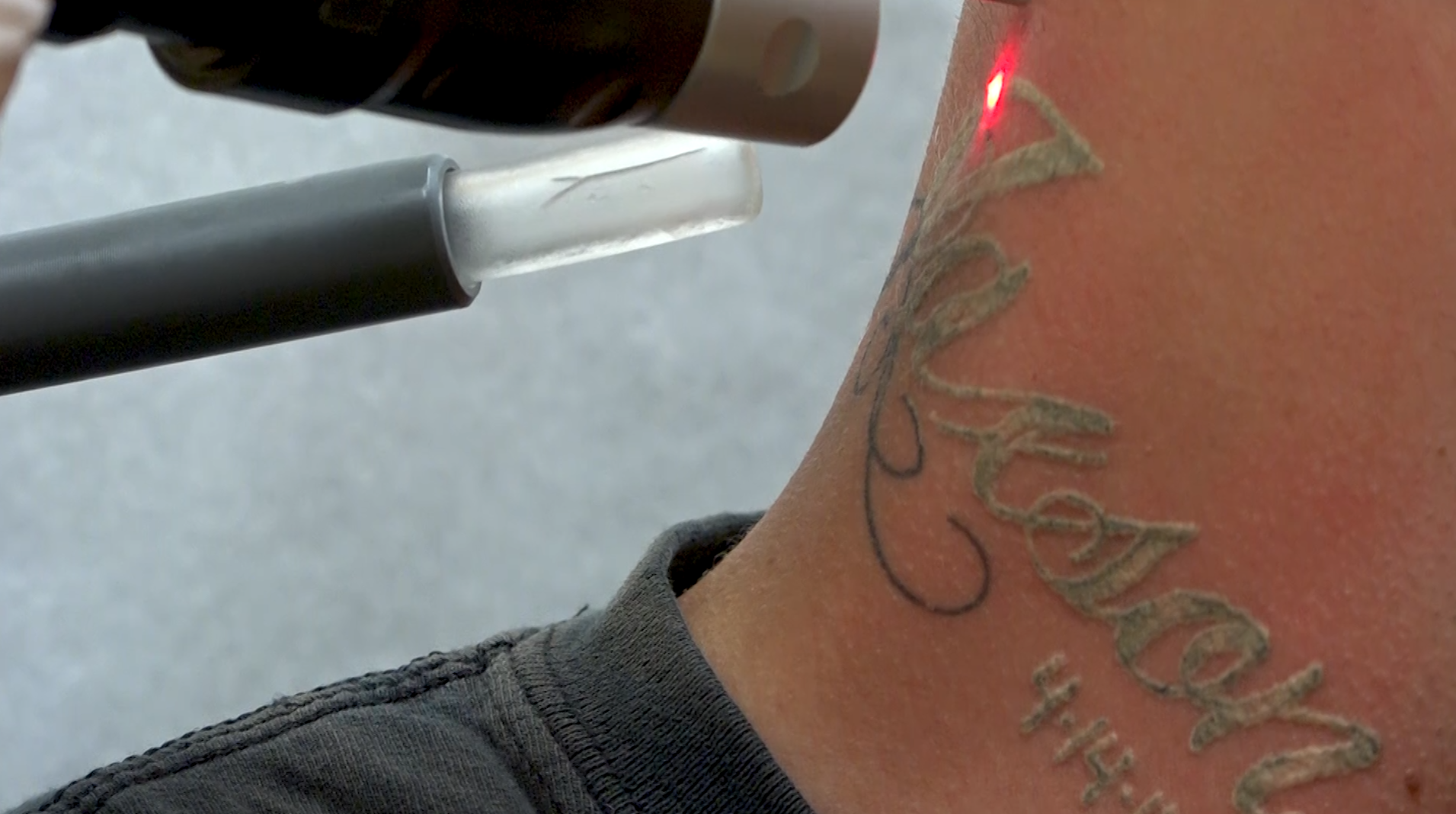 Montgomery
Revenue from tattoo removals is expected to hit more than $82 million this year, a sign of the proliferation -- and regret -- of skin ink. PBS39's Harri Leigh talks to folks who are going through the process -- and paying a pretty penny to make it happen.
Tattoo Regret Becomes Big Business
HAVERFORD, Pa. (WLVT) - Steven Monaco has been getting tattoos for 20 years and has two full sleeves, or full-arm tattoos.
"I love the art behind it, the color, the look, and really the meaning," he said.
He's one of 45 million Americans who have at least one tattoo, according to the New Look Laser College. And now, he's one of the growing number of Americans getting his tattoo removed.
"The number of tattoos and the acceptance of tattoos has become much greater. Therefore there are more people coming in to eventually get them removed," said Dr. Margo Weisher, dermatologist and owner of Springhouse Dermatology in
Lower Gwynedd Township
. "That being said, it is way easier to put a tattoo on than to remove it."
The popularity of tattoos has surged in recent years. In 2016, 30 percent of American adults had a tattoo, up from twenty percent in 2012, according to Harris Poll data. The highest concentration of people with tattoos are young adults: 36 percent of 18-to-25-year-olds and 40 percent of 26-to-40-year-olds.Estimates vary, but up to 50 percent of people who get tattoos regret them.
"The majority got the tattoo, they did not really realize that this is what they were in for, and just hate it," said Dr. Franziska Ringpfeil, dermatologist and owner of Ringpfeil Advanced Dermatology in Haverford.
As the demand for tattoos has risen, so has the demand to remove them. Between 2005 and 2015, revenue from tattoo removals surged 440 percent to $75.5 million, and is expected to hit $83.2 million this year, according to data from IBISworld. Over time, Dr. Ringpfeil said she has seen a change in who's getting removals.
"Back in 1997, it was mostly, I would want to say, the sailors, the servicepeople who came in who were sort of fed up with their tattoo, maybe they had a life change," she said.
Today, 70 percent of tattoo removal patients are women, and the average removal age is 29. The two main reasons behind tattoo removal are professional pressures and personal regret, Dr. Ringpfeil said.
For example, Joshua Hoyte got a tattoo on his neck to commemorate his son's birth.
"I mean I do like the tattoo. I wish I hadn't gotten it there," Hoyte said.
He began the removal process because of a new career path.
"Never really had the thought of going into law enforcement, and now it's something I'm motivated to get into," he said.
Hoyte said he thinks a neck tattoo seems unprofessional in law enforcement, and he also wants to avoid any resemblance of his tattoo to gang tattoos.
Steven Monaco, meanwhile, said he had just outgrown his phase of personal expression through tattoos.
"Having it for so long, for so many years, I kind of grew out of that look, that phase," Monaco said. "It may take many, many years if I wanted to remove all of it, but right now just by removing some of it and having a different look is just what I'm going for."
After five treatments over two years, his tattoos are fading. And though they're still visible, new technology is making tattoo removal more effective than it's ever been. Current treatments almost always involve lasers that target the tattoo pigment.
"The idea behind removing tattoo pigment is that you're using the laser to smash the tattoo particles into tiny particles where your body can then remove them," Dr. Weisher said.
As the laser penetrates the ink particles, it causes a temporary reaction called frosting. Different wavelengths of lasers target different colors, so not all colors react the same way. While darker pigments like black and blue are relatively easy to shatter with lasers, scientists are still working to improve lasers targeting colors like yellow and red. The effectiveness of the treatments depends largely on the kind of tattoo. Because Monaco's tattoos are large and contain many pigments, they will take longer to remove.
"Most tattoos take a minimum of three to four treatments, but could take 10 or 12 treatments to actually remove all the pigment," said Dr. Weisher.
Treatments are usually spaced out between six weeks and three months apart to allow the body to clear those particles. Costs range from around $200 for a small black tattoo to thousands of dollars for larger or more colorful tattoos.
"Definitely more than you would have spent to get that tattoo," Dr. Ringpfeil said.
Though newer lasers cause fewer burns, they still can result in blistering and require aftercare.
"I think the pain is a little bit worse than getting a tattoo, especially when you're getting two arms done in the same treatment, but it's really not that bad," Monaco said.
So before you commit to getting a tattoo, Monaco advised anyone considering a tattoo to take their time to think about it.
"Now with technology, it looks like there are ways to remove it," Monaco said. "However, it's going to stick with you, so make sure you plan it out, make sure it's meaningful, and I'd say make sure it's what you really want."