Arcadia culminates African American History Month with read-in
by
Published on
• Last modified on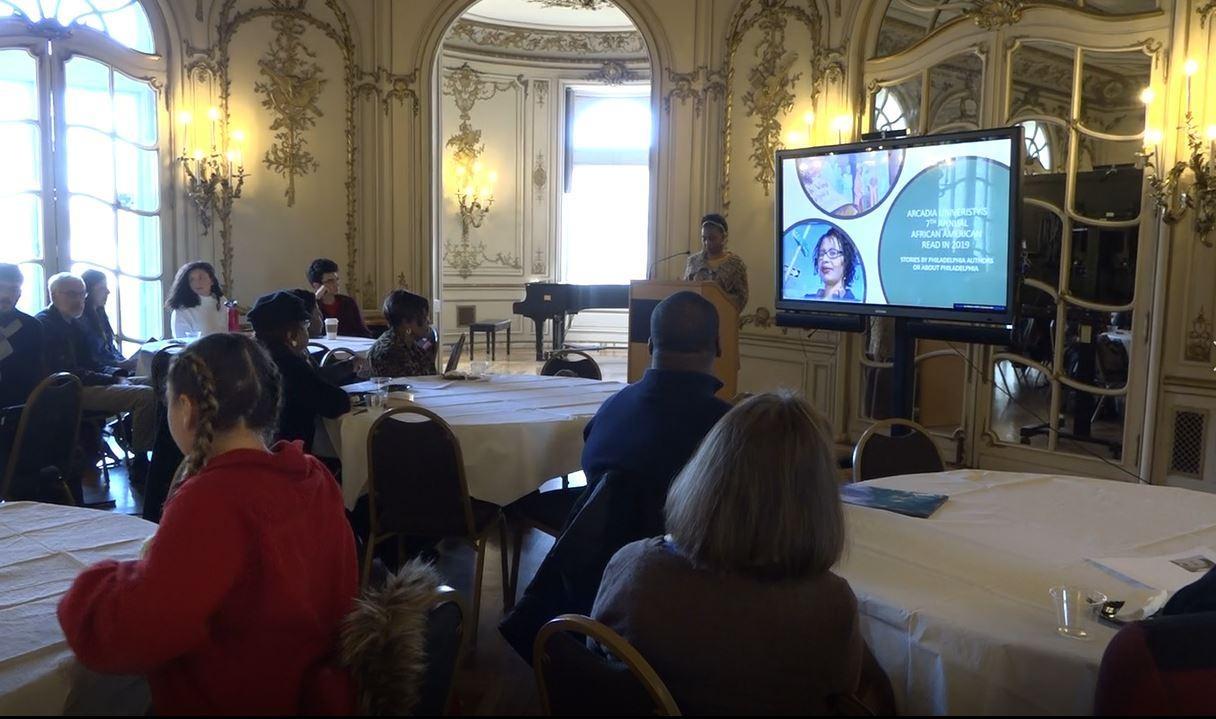 Montgomery
PBS39 News Reports
READ-IN
3:43
Published:
African American History Month Read-in at Arcadia University in Montgomery County.
GLENSIDE, Pa. (WLVT) - On a sunny February afternoon, a few dozen people sat listening to literary readings in the mirror room at Arcadia University's Grey Towers Castle for the university's seventh annual African American Read-In.

The National African American Read-In was created 30 years ago by members of the National Council of Teachers of English (NCTE) to coincide with African American History Month.

Kalenda Eaton, ASSOCIATE PROFESSOR OF ENGLISH/DIRECTOR OF GRADUATE PROGRAM IN ENGLISH: "On a particular day in February—it doesn't have to be the same day—community centers, libraries, museums, universities and high schools get together get together and celebrate African American literature," said Kalenda Eaton, associate professor of English and director of Arcadia's graduate program in English.

Eaton founded the Arcadia event in 2011. It's important to highlight the works of African American writers for the same reason it's important to highlight all authors, she said: "Because the power of the written word, the power of literature, the power of storytelling and narrative is something that brings cultures together, brings worlds together and brings communities closer."

But the read-in is a time to focus on perhaps-overlooked works that students may not have learned about in school.

"Oftentimes they're not introduced to a diversity of authors in English," said Judith Dalton, associate dean of institutional diversity at Arcadia. "It gives them an opportunity to participate by having to search for an African American author, if they're not already familiar with one."

This year, the event was tied in with a class at the university, called "The African American Experience in Philadelphia." Accordingly, this year's theme was Philadelphian artists and stories. Volunteers from the university and elsewhere read their favorite works of literature by an author of African descent, including poetry, fiction, non-fiction, verse and dramatic performances.

"I chose a book called Hoops by Major Jackson," said senior Daniela Pinilla Angel, a student in the class. "I just thought it was very interesting because it has different poems about what it's like to live an urban life and what it's like to go to public school in Philadelphia."

Though Pinilla Angel grew up in the Philly area, she was surprised by the amount of African American literature produced here.

"It shows people that there's more work that African Americans have contributed to," she said. "Before doing this, I had no idea about all the authors that were on the list. I actually went through and I researched, and some of the work is pretty amazing. I think some of the work is pushed back or it just doesn't get as much knowledge as it should."

The works presented throughout the two-hour event often shared some common themes.

"Love, loss, community, revolution, there are some things about growing up on the Main Line, for example, and being a person of color in s space that's close to home but not necessarily close. It seems like it's a world away, so some of this estrangement," Eaton said.

The Arcadia read-in has evolved since its first year, growing from a small group of faculty sharing literature they liked to include students and other members of the university community. Local community interested has spiked in the last few years, organizers said, and the read-in is now open to the public.

"A lot of folks from non-academic units that are really excited and eager about getting on the list," Eaton said.

The university's Office of Institutional Diversity, which sponsors the read-in, said they plan to continue expanding the event in years to come.